Welcome to my site
This is a small place for me to share the trivial matters of my life.
Really our greatest pleasure in recent years has been traveling, particularly to Europe, so I have a few pictures from each trip. Nicole got to join us on the first two trips, and the last trip to Spain & Italy was just me and Oksook. Click on the pictures for photo galleries.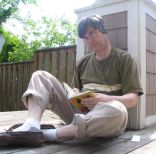 Hangin' Loose
Nicole finished college last year and our dog Milo is getting too old to put in a kennel, so we're stuck here 'waiting him out'. No travels in the near future, but that's OK. He's been a good old dog, and we're happy to give him our time. That leaves lots of time catching up on the reading that I never did when I was younger. Seriously, I never pictured myself in my 50s. Does anyone?
Europe - 2003

A four-week romp through Western Europe. England - Belgium - Germany - Venice - Paris. Our first European trip, and a wonderful introduction to a wonderful continent!

Europe - 2005

We had some airline ticket refund money to use, so we took a much shorter trip through Belgium, The Netherlands, and northwest France.

Italy & Spain - 2010

This was a more focused trip - 24 days and just two countries, but it still felt like a whirlwind tour. Oksook loved Italy, I loved Spain.
Template from free website templates.