Welcome to my site
This is a small place for me to share the trivial matters of my life.
Really our greatest pleasure in recent years has been traveling, particularly to Europe, so I have a few pictures from each trip. Nicole got to join us on the first two trips, and the last trip to Spain & Italy was just me and Oksook. Click on the pictures for photo galleries.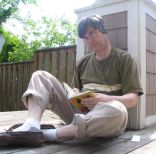 Hangin' Loose
Nicole finished college a few years ago, so we're empty nesters now. That's OK. It leaves lots of time catching up on the reading that I never did when I was younger. Seriously, I never pictured myself in my 50s. Does anyone?
Europe - 2003

A four-week romp through Western Europe. England - Belgium - Germany - Venice - Paris. Our first European trip, and a wonderful introduction to a wonderful continent!

Europe - 2005

We had some airline ticket refund money to use, so we took a much shorter trip through Belgium, The Netherlands, and northwest France.

Italy & Spain - 2010

This was a more focused trip - 24 days and just two countries, but it still felt like a whirlwind tour. Oksook loved Italy, I loved Spain.
Template from free website templates.